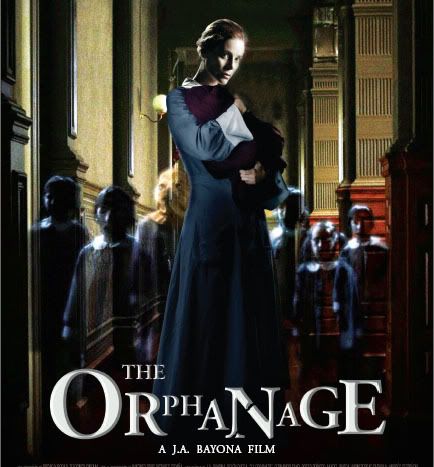 Yesterday I watched The Orphanage. Yes. That sentence in itself is a statement of horror. I have a feeling that Juan Antonio Bayona will make many more films, after such a great debut. Yes. The awful, terribly frightening Spanish film 'El Orfanato', overflowing with suspense and a feeling of anything jumping out of anywhere at any time. If you can't speak Spanish you can't resist laughing at the fact that they speak so quickly, and it's quite difficult to keep up with the racing English subtitles at the bottom of the screen. Before watching it, I checked out the ratings on the IMDb, and they vary from PG in Singapore to 13-15 in most of Europe and 18PL in Malaysia - for over-eighteens only! This variation was rather odd, and soon I found out why. There was hardly any violence or blood, but it was all down to fear. If you understand the story, you can actually feel the horror - you understand the daunting situations, hence the post title.

The film starts with a flashback of one of the main characters Laura in her childhood, playing games. A calm start. Then we meet Simón, her adopted son, who has to take medicine every day because he is HIV positive. He has 'imaginary' friends. Laura and her husband Carlos never believe in these invisible friends. They all live in Laura's old orphanage, and they want to make it into an orphanage again, with about 5-6 children. One day at a party Simón wants to show her something, but she refuses. That was the last time she sees him alive. The story escalates from here. It really becomes a thriller. We see how she tries to find him... doing whatever it takes.

If you can stomach it, I'd really advise you to watch this film!